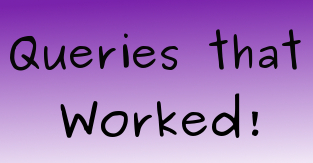 Today I'm pleased to welcome Tristina Wright to Off the Page, sharing the query that landed her an agent.
Just a quick reminded about this feature…
All these featured queries worked! Meaning they snagged the attention of an agent or editor. These books are now represented or published, or both.
These queries are not perfect. They don't have to be. This is to show aspiring authors the kind of query that works despite imperfections.
These authors aren't looking for critique on their queries since these books are already represented or published, but have kindly agreed to allow me to showcase these queries to help other authors currently playing the query game.
You are of course welcome to comment on all the queries!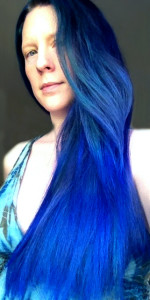 Tristina Wright fell in love with words over a battered spiral notebook and a stubby pencil when she was twelve years old, and hasn't stopped since. In college, she combined her love of words with a love of theatre, working backstage building sets, hanging lights, and stage managing. She's fascinated with the way the worlds both onstage and in books are built—stemming from a tiny idea and blossoming into a full performance of imagination. She writes books for young adults and the young at heart. When she's not carving words from her brain, she dyes her hair crazy colors, plans more tattoos, wrangles her children, and collects book boyfriends.
Social Stalking:
Twitter    Facebook   Tumblr    Goodreads    Pinterest   Website
And now for the query…
One Night –
A Masquerade under a sky stamped with the silhouettes of airships.

Two Races –
Olympians and Titans living in the automaton luxury of steam technology.

Three Fates –
Who impose the death penalty on interracial relations.

Four Oracles –
Give an Olympian girl and a Titan boy a prophecy.

As a punishment for The Great War between the Titans and Olympians eons ago, the Fates laid down strict segregation laws between the two races that hold fast in this era of airships and glistening automaton cities. When an undeniable attraction transcends the masks and anonymity of the annual Masquerade, eighteen-year-old Titan Lucas Vassallo must make a brutal decision – sacrifice everything for the enticing Olympian Pandora Rines, or submit to the age-old laws no one questions. In the midst of a world taut under the strain of segregation, their defiance of the Fates may cost them their lives.

CHILDREN OF THE GODS is a modern YA steampunk Romeo and Juliet twisted up in the Greek myth of Eros and Psyche. It is complete at 75,000 words and is the first in a planned 2-book series with ideas for companion novels.
And there you have it. What do you think?
If you have a query that worked and would like to share it with others, please feel free to email me at the address listed on the Contact Me page.