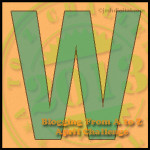 This week I've had quite a few guest posts on the blog and not all of them could be manhandled to fitting the A to Z Challenge so today I'm taking advantage of the W and catching up with T and V.
T is for Tattoo
Tattoos have always fascinated me. They're art, they're a commitment, they're a statement and I always vowed to get at least one of my own.
When I was 21, I was on exchange in Finland and decided to get a tattoo to commemorate the event that drastically altered my life's trajectory. It also helped that my parents were home on a different continent and couldn't convince not to get inked. So I got my first tattoo and the guy who did, Ian of Simply Tattoo said "It'll either be your first and last, or your first of many…" And he was right…
A few months after returning to South Africa, I watched a movie called The Tattooist – not a brilliant movie but there was this scene where the girl runs her hands over the guy's heavily tattooed torso and he tells her the story of each tattoo and where he was in the world when he got them. I loved the idea! A living map of memories inked into my skin. So… I got another tattoo for South Africa. A year or so later, I moved to Australia and immortalised the memory with more ink.
In 2009, I moved back to Finland and ever since I've been dying to get more ink. Last year, I did. I'm currently at four and counting, seriously reconsidering my own personal rule about only getting a tattoo when living in a new country. To satisfy my addiction I'd need to move every six months! I'm managing to control myself at the moment but I'm already working on designs.
And since we're talking about Finland…
V is for Värtinnä
This is one of my favourite Finnish folk bands, one I've been listening to a lot while working on my Finnish fantasy novel. Enjoy the music!


Are you a fan of tattoos? If you want to see more cool tats, check out my Pinterest board Amazing Tattoos


Did you enjoy this article? Subscribe to my blog and you'll never miss a post! You can subscribe to my mailing list or follow on Networked Blogs and Linky.