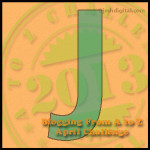 Today's letter in the A-Z Challenge is J. While trying to think of a writerly topic to do with J, i started thinking about where my career began and why, and that took my back to a small Finnish city in the centre of the country.
I moved to Finland in 2009 to study a Master's in music, mind and technology at the University of Jyväskylä (You-vah-skew-lah). Between assignments and exams, I started writing fiction again. I wrote short stories mostly and even attempted a novel, which turned out to be terrible but taught me I could actually get to 50k words.
At the same time I started looking for an extra source of income. I was lucky and earned my first paycheck for writing after having a tiny article published in a pretty well known English language paper. After that, I approached my university's newspaper, Jylkkari, and started writing monthly features for them on topics ranging from how to grow your own veggies to gay clubbing.
I owe the editors of Jylkkari a huge amount of thanks. It was because of that newspaper that I started to pursue a career in writing and began to believe that it was more than just a pipe-dream.
It was in Jyväskylä that I sold my first short story, that I signed my first publishing contract and that I decided to make the career leap from musician to writer. I miss this city. I miss its quaintness and cosy coffee shops dotted along the only central shopping street. I miss skating on the lake in winter and sitting on the shore for summer picnics. I spent a wonderful 2.5 years in this little city and who's to say I won't end up back there one day.