Waiting on Wednesday is an event hosted by Jill at Breaking the Spine to spotlight books to be released we can't wait to read. Here's mine…
CODA
by Emma Trevayne
Expected May 7th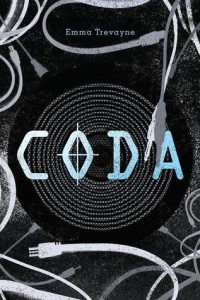 Ever since he was a young boy, music has coursed through the veins of eighteen-year-old Anthem—the Corp has certainly seen to that. By encoding music with addictive and mind-altering elements, the Corp holds control over all citizens, particularly conduits like Anthem, whose life energy feeds the main power in the Grid.
Anthem finds hope and comfort in the twin siblings he cares for, even as he watches the life drain slowly and painfully from his father. Escape is found in his underground rock band, where music sounds free, clear, and unencoded deep in an abandoned basement. But when a band member dies suspiciously from a tracking overdose, Anthem knows that his time has suddenly become limited. Revolution all but sings in the air, and Anthem cannot help but answer the call with the chords of choice and free will. But will the girl he loves help or hinder him?
A dystopian story involving music? Hell yeah! Can't wait to read this one, it sounds awesome and that cover is just perfect.
Which book are you waiting for?