Today I'm pleased to welcome Joseph Spencer to Off the Page chatting about his new book Grim.
Joseph Spencer is the author of the Sons of Darkness series launched by his debut novel, Grim, on September 1, 2012. Work on his second book of the series, Wrage, is already underway and is expected to be released some time in 2013.
Before Joseph took to spinning his own tales, he pursued a career in print sports journalism, graduating with honors from Clinton (IL) High School in 1996 and summa cum laude from Southern Illinois University-Carbondale in 2000. He covered such events as NASCAR's Subway 500 race in Martinsville, the NBA Draft Camp in Chicago, the Junior College World Series, and Minor League Baseball's Midwest League All-Star Game during a ten-year career throughout the Midwest. Now, he works as an emergency telecommunications specialist with an Illinois police department. The combination of years of writing experience with a background working with law enforcement professionals gave rise to his writing aspirations.
Website | Twitter: @josephspencer00 | Facebook |
Can you tell us a little about yourself?
I worked for ten years at regional daily newspapers where the deadlines and the pressure to produce compelling content on an everyday basis became a challenge I relished. I switched careers about four years ago because digital media is making things in daily print newsrooms pretty scary. Now, I'm a supervisor in an emergency 9-1-1 call center in central Illinois. We're the ones you talk to on the phone when you call for police, fire or ambulances. I thought it'd be fun to mesh my careers, so now I write crime fiction with a twist of paranormal.
My wife and I enjoy movies a great deal. There are several movies we enjoy watching all the time from comedies like Bridesmaids and Office Space to thrillers like Seven. I'm also a big Batman and Sherlock Holmes nut, so I enjoyed Christopher Nolan's Dark Knight trilogy and both of the latest Sherlock adaptations from the BBC and CBS. I love to read as well. Over the past year, I've read YA books like Beautiful Creatures, Hunger Games, and the Mortal Instruments series. I've also read every bit of George R.R. Martin's Songs of Fire and Ice series, and I'm currently reading my friend Eric Miller's anthology Hell Comes to Hollywood.
When and why did you start writing?
When I switched careers four years ago, I began to miss writing terribly because I'd done it every day for almost all of my professional life. That's when I decided to start working on writing a novel. I'd always said I wanted to write a book, but never really put me feet to the fire on it. I'd never written fiction and I'd never had any formal creative writing training, but I figured I just focus on the storytelling aspect of writing from when I was a reporter and go from there. I work at a 9-1-1 center, so I'm around crime every day. I used that as an inspiration for my writing.
If you could read only one book over and over again for the rest of your life, what would it be and why?
It's probably cheating, but I've got a collection of all of Sir Arthur Conan Doyle's Sherlock Holmes stories which I've read several times. Holmes and Watson have always captivated me. It's fascinating to think of a mind which could derive so much information from such trifling clues which others had rendered as unimportant. The transformation of Holmes also is significant to me. After his reemergence from death, he'd changed from what he experienced. It made him a harder and meaner man, and I think it's a realistic outcome considering the depravity with which Holmes had been exposed over the course of his career.
Give us some back story to Grim, where and when did you write it?
I began working on Grim after I switched careers about four years ago. I missed writing. I wrote most of the story using my daily experience from talking with officers on the police radio as a crutch to create the personality of my police characters.
What inspired your story?
The story gained inspiration from Christopher Nolan's Dark Knight and Heath Ledger's portrayal of the Joker in the movie. My title character, Heath Grim, was named after Heath Ledger. I was intrigued by the Joker's storyline as an engineer of chaos in his environment, and I wanted to create a character every bit as impactful. However, I didn't want to merely rip off the movie. I wanted to explore a storyline where the environment grew even more chaotic.
What was your favorite part of Grim to write?
When my family and friends started reading what I wrote, I think I received a unanimous response that the ending wasn't expected, wasn't conventional and wasn't what they're used to reading. However, almost all of them said that they found the conclusion to be appropriate. I think my favorite part of this particular writing project is exploring a story arc in which the characters don't react the way they'd react in most others stories. I write gritty, morally gray characters, and it's exciting for me to write the experience of that particular character in the way I think they'd act, regardless of whether society would deem the reaction as right or wrong behavior.
Are you working on any other projects at the moment?
I'm beginning the publishing process phase of Wrage, Book 2 of The Sons of Darkness series. My expectation is that Wrage will likely be released in the summer or fall of 2013. The story picks up where Grim leaves off, and explores several characters who are bit players in the first book more closely. I'm in the planning stages of my third book of the series, Malice, which will follow the exploits of a rock star inspired in part by Marilyn Manson.
I'm also in the planning stages of a separate as-yet-untitled project which I'm working on with my wife, Amy. Here's a blurb we created for that story:
The search for a missing girl leads police to a playground where her body is posed with a toy. Days from retirement, Detective Jack Stone reluctantly accepts the case and recognizes the calling card of the Toy Box Killer, who has eluded capture for over twenty years. When Stone's investigation takes a tragic turn, homicide division rookie Aarika Williams must aid in exposing the killer before he strikes again. Nobody knows Williams, hungry for her first collar, harbors her own secret, which she'll develop with Stone's help in order to identify the killer from a pack of child predators.  The detectives race against time to unravel the mystery before the enigmatic murderer disappears again.
Are you a Pantser or a Plotter?
In my first two books Grim and Wrage, I developed the stories from the seat of my pants. I focused more on a few small concepts and characters which I had narrowly defined in my head, and developed the story around them. In the project I've just begun with my wife, I am more of a Plotter. To work with two different perspectives, it's easier to develop a plan. I wanted to go that route at least once to see if it helped develop my writing better than when I just let my imagination wander.
Do you have any tricks to your trade?
In my opinion, the best writers are avid readers. There's so much you can learn from other writers. Whether it's technique, style or ideas, the amount of knowledge you can pick up just by reading is infinite. I'm just a beginner in writing fiction, so I strive to improve with every project I write. To me, there's no better way than to improve than to immerse yourself in the literary culture.
If you could be any fictional character for a day, who would you be and why?
How could you not choose James Bond? He plays with all the coolest technology, romances the world's most beautiful women, travels to the most exotic locales and always saves the day, all while being handsome, well dressed, debonair and charismatic.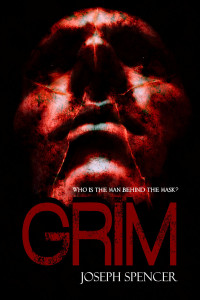 When everything is taken from him, Detective Adam White must choose what's most important. Does he stick to the heroic ideals which made him a famed paragon of justice and take down a murderous madman? Or does he give in to his vigilante impulses, avenge his wife's murder, and become the type of killer he's hunted for so many years?  
Purchase: Damnation Books | Amazon (Kindle) | Amazon (Print) | B&N |